In the hospitality industry, food packaging plays a vital role in maintaining the quality and presentation of dishes while ensuring convenience and safety for customers. As sustainability becomes increasingly important, paper-based food packaging has gained popularity due to its eco-friendly nature and versatility.
In this blog, we will explore the top 10 paper-based food packaging products that hotels, cafes, and restaurants can incorporate into their operations.
For Any Query Drop A Mail At: [email protected]
Top 10 Paper-Based Food Packaging Products
1. Paper Packaging Bags
Paper Packaging bags are an excellent choice for takeout orders and food deliveries. They are sturdy, lightweight, and eco-friendly, making them an ideal alternative to plastic bags. Customizable paper bags with your logo or branding can elevate the overall customer experience. Hire a leading paper bag manufacturer and establish a strong brand image for your business among your target audience.
2. Paper Cups
For hot and cold beverages, paper cups are a go-to option. They are insulated, allowing customers to comfortably hold their drinks while keeping them at the desired temperature. Paper cups are available in various sizes and can be custom printed to showcase your branding.
3. Paper Wraps
Paper wraps are perfect for wrapping sandwiches, burgers, and other handheld items. They provide a clean and convenient way for customers to enjoy their meals on the go. With grease-resistant options available, paper wraps ensure that the food stays fresh and the packaging remains intact.
4. Paper Boxes
Paper boxes are versatile packaging solutions for a variety of food items, including pastries, cakes, and salads. They come in different shapes and sizes, offering ample space for food presentation. Paper boxes are easy to stack and transport, making them ideal for catering services.
5. Paper Food Trays
Paper food trays are commonly used in fast-food restaurants and food courts. They are perfect for serving fries, nuggets, and other finger foods. Paper food trays are sturdy, grease-resistant, and disposable, ensuring a hassle-free dining experience.
6. Paper Napkins
Paper napkins are essential in any food establishment. They are not only used for hygiene purposes but also add a touch of elegance to the dining experience. Paper napkins can be custom printed with logos, patterns, or messages to reinforce your brand identity.
7. Paper Food Pouches
Paper food pouches are an eco-friendly alternative to plastic pouches. They are ideal for packaging snacks, dried fruits, and other small food items. The resealable feature of paper food pouches allows customers to consume the contents at their convenience.
8. Paper Takeout Boxes
For larger portions or meals that require careful handling, paper takeout boxes are an excellent choice. They are durable, leak-proof, and can be easily folded to secure the food. Paper takeout boxes are widely used for Chinese and Asian cuisines but can be adapted for various types of cuisine.
9. Paper Souffle Cups
Paper souffle cups are commonly used for condiments, sauces, and dressings. They are convenient for portioning small amounts of these items, making them easy to serve alongside main dishes. These cups are disposable and can be composted, minimizing environmental impact.
10. Paper Burger Wrappers
For serving burgers and sandwiches, paper burger wrappers offer a practical and eco-friendly solution. They protect the food, prevent leakage, and provide an aesthetically pleasing presentation. Customized paper burger wrappers with branding or promotional messages can enhance the overall dining experience.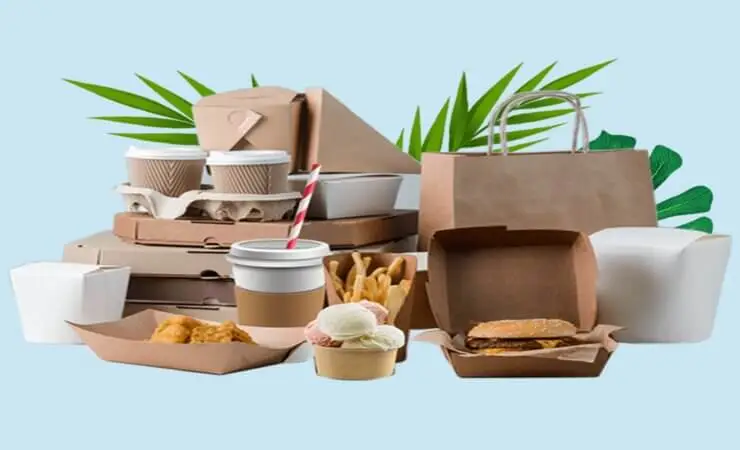 Best Paper Based Food Packaging Products Manufacturer in India
Paper-based food packaging products provide an eco-friendly and sustainable solution for hotels, cafes, and restaurants. From paper bags and cups to wraps and boxes, these packaging options ensure that food remains fresh, while also reducing the environmental impact. By incorporating paper-based food packaging products into their operations, establishments can not only meet the growing demand for sustainable practices but also enhance the overall customer experience.
If you are looking for a leading Paper Based Packaging Product Manufacturer, we recommend you hire Procurit. They are known for offering customized food packaging products at very cost-efficient prices. Their packaging products come with such a high-class quality that enhances their durability as well as fascinates the customers with their unique design.
So, if you want to get a competitive advantage in your food or hotel business, just contact them and give your users a unique experience along with saying "bye-bye" to plastic packaging.
Order your required packaging products now and get huge discounts on bulk orders.
Contact us for more information: +91 7303068678