Packaging plays a pivotal role in enhancing the overall experience for customers. Packaging becomes more significant if you are doing business in the food industry. Custom food packaging solutions not only ensure that the food remains fresh and secure during transportation but also serve as a branding tool for businesses.
Among the numerous packaging manufacturers in India, Procurit stands out as a leading company specializing in custom sandwich boxes. With its commitment to quality, innovation, and sustainability, this food packaging products manufacturer has earned a reputation as the go-to provider for bespoke packaging solutions in the food industry.
For Any Query Drop A Mail At: [email protected]
In this blog, let us explore why to hire Procurit as your custom sandwich box manufacturer in India.
Reasons to Choose Procurit as Your Customized Sandwich Boxes Manufacturer
1. A Legacy of Excellence
Founded by a team of passionate individuals, the company quickly gained recognition for its commitment to excellence, consistently delivering high-quality products that exceed customers' expectations.
Through continuous research and development, Procurit has consistently stayed ahead of the competition, adapting to changing market trends and customer demands. Other than sandwich boxes, they also manufacture paper pizza boxes, paper tubs, paper bags, etc.
2. Cutting-Edge Technology
One of the factors that set this food packaging products manufacturer apart from its competitors is its investment in cutting-edge technology. The company has equipped its manufacturing facilities with state-of-the-art machinery and equipment, allowing them to produce sandwich boxes with precision and efficiency.
By leveraging modern technology, they can offer a wide range of customization options, accommodating various shapes, sizes, and designs as per clients' requirements.
3. Sustainable Solutions
In recent years, there has been a growing awareness of the importance of sustainable packaging in reducing environmental impact. This company takes its responsibility seriously and has embraced eco-friendly practices in its manufacturing processes.
The company sources recyclable and biodegradable materials to create custom sandwich boxes that are not only durable but also environmentally friendly. By providing sustainable packaging solutions, they help businesses align with green initiatives and appeal to eco-conscious consumers. They are known as a leading paper food packaging products manufacturer in India.
4. Unparalleled Customization
One of the key strengths of this food packaging products manufacturer lies in its ability to offer unparalleled customization options for sandwich boxes. Whether it's a small sandwich shop or a large food chain, it caters to the diverse needs of its clients.
From unique designs, brand logos, and color schemes to specialized compartments and closures, they ensure that each packaging solution reflects the brand identity and enhances the overall customer experience.
5. Quality Assurance
As a market leader, Procurit is committed to maintaining the highest standards of quality in its products. The company employs a stringent quality assurance process that starts from the selection of raw materials and continues through every stage of production.
Each custom sandwich box undergoes rigorous testing to ensure its durability, safety, and functionality, guaranteeing that the product reaches the end users in pristine condition.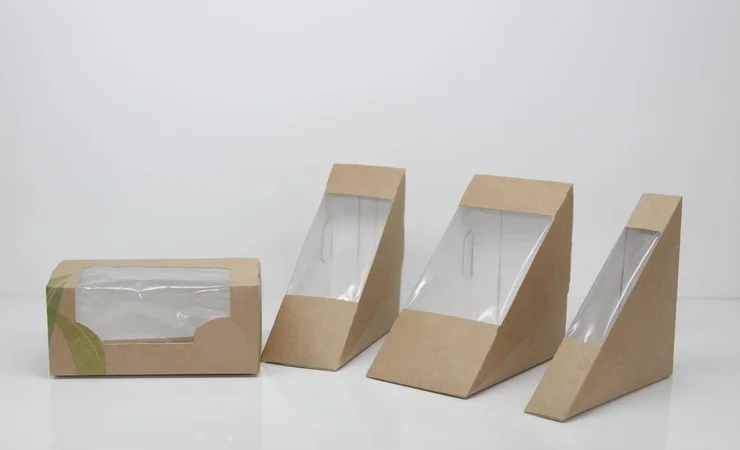 6. Customer-Centric Approach
They attribute its success to a strong customer-centric approach. The company believes in building lasting relationships with its clients by understanding their unique needs and providing personalized solutions.
Their team of experts works closely with customers, guiding them through the entire packaging design and manufacturing process. This collaborative approach ensures that clients receive tailor-made solutions that align with their brand identity and operational requirements.
7. Nationwide Reach
With a robust distribution network, they serve clients across India, ensuring prompt and efficient delivery of custom sandwich boxes. The company's strategic locations and partnerships with logistics providers enable it to cater to the diverse needs of businesses, from small-scale local establishments to large national chains.
Final Thoughts
Procurit's journey as the leading custom paper food packaging products manufacturer in India is a testament to its dedication to quality, innovation, and customer satisfaction. As the food industry evolves, it remains at the forefront, ready to meet new challenges and exceed expectations, solidifying its position as the preferred packaging partner for businesses across the nation.
So hire Procurit for the custom sandwich boxes and get huge discounts on bulk orders.
Contact us for more information: +91 7303068678